Drum Lessons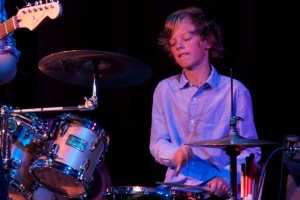 Starland Music Center is renowned in Alameda and throughout the Bay Area for our drum lessons and percussion lessons.
Our drum lesson program is a comprehensive combination of reading, technique and application on the drums. Students can expect a well rounded lesson program that truly encompasses all that is expected of a percussionist.
Typically as a beginner with drum lessons, we start with note reading and technique. This is followed by the introduction of the drumset usually a few weeks later. At this point, the note reading and drum-set playing goes hand in hand. Students will learn basic rudiments in the beginning as well as simple drum grooves.
As the drum lessons progress, the students will learn more progressive rudiments, reading, and application of the rudiments on the drumset. Once a basic understanding of fundamentals has been reached, then we work on different genres and all the nuances in each genre.
Exploring new genres that you're not accustomed to is also a plus from the drum lessons program. The confidence and practice skills that are taught throughout are priceless.
Our instructors prepare our students taking drum lessons to perform in an optional low-pressure yearly recital which provides a great opportunity to create and achieve goals while gaining confidence in performing. During our recitals and events Starland encourages and facilitates students joining together and creating music.
Starland School of music provides the optimum school setting with special teaching studios specifically designed to enhance the music learning process.
Call us for a free consultation at 510-523-4797
Available Drum Teachers
Bass, Drums, Guitar, Ukulele