Music Lessons
Learn to play music in a fun and supportive atmosphere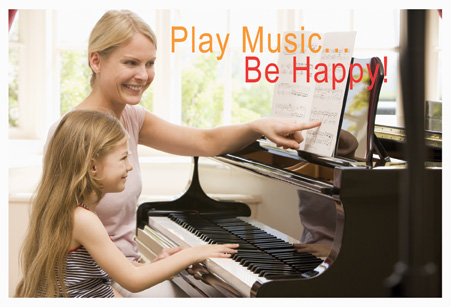 At Starland our music lessons are taught in a fun and supportive atmosphere by experienced and carefully qualified professional instructors. We offer music lessons for Adults and children in piano, keyboard, guitar offering the Starland Guitar System, electric bass, flute, saxophone, clarinet, drums, violin, cello, voice and special programs for children ages 4 to 6.
We take the time to make sure you are getting what you really need to fully experience the joy of creating music. You'll come in for a FREE Consultation appointment where we take the time to go through a special system we've developed called the Music Learning Needs Analysis. From the information we've collected we should be able to recommend a particular music lessons program, instructor, give you a cost with whatever we come up with and maybe answer more questions for you at that time. (there's no charge and no obligation.)
Give my staff a call at your convenience and they can set up an appointment for you. Our office is open on Monday through Fridays from 11 am to 7 pm and on Saturdays from 11 am to 4 pm.
Music Lesson at Age 4?
Starland School of Music provides children with a total immersion in music through group music lessons, which include parental participation. The Yamaha Program is aimed at giving children the joy of making music while learning basic music skills.
Beginning at age 4 children are introduced to rhythm, ensemble playing, keyboard harmony, and note reading with an emphasis on ear training through singing and imitation. This training provides children with the skills needed for improvisation and composition as well as repertoire performance.
Watch our 10-minute video on the Yamaha Educational System.
Guitar Lessons Done Right
Tomas is responsible for developing and training teachers in his highly effective and successful method, the "Starland Guitar System", a step by step method to take the beginner from the early stages of playing guitar to mastery. The system, developed using sound educational principles, is designed to teach self esteem and character traits such as focus, patience, persistence and concentration along with expertise on the guitar.