Cynthia Hussey Biography – Piano Instructor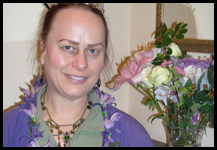 Cynthia discovered at a young age that music held the key to her happiness. As a young child, after watching her mother play, she asked her parents for piano lessons at the age of five; and that, as they say, was the start of a beautiful friendship. Her first teacher was Marlene Olander. Over the next ten years, Mrs. Olander not only taught her how to play the piano, but also nourished her love of music. "She had the patience of an angel" Cynthia says about Mrs. Olander. If not for her, Cynthia believes she would not be teaching today. After Mrs. Olander, Cynthia continued her long love affair with music by taking lessons from several other teachers both privately and at Mills College in Oakland, from which she graduated with a bachelors degree in music.
It wasn't until her brief, yet rewarding lessons with Debbie Sietman in London, England, that Cynthia really began to see into the depths of what music could offer. "She really opened my eyes to whole new levels of detail and interpretation in music," Cynthia remembers. "After all, the notes and the timing are only half of music; interpretation is the other half, and that is what makes it art." Learning from Ms. Sietman took Cynthia's piano skills, and more importantly her love for playing, to a whole other level. "It changed my life in ways I will never forget."
Cynthia has been teaching piano lessons on and off since she was a teenager. In fact, she just had her ten-year anniversary at Starland at the beginning of this month! I asked Cynthia what she loves most about teaching, and almost instantly a sparkling, and quite contagious smile appeared on her face. "My students!" she says without hesitation. "Music is unbelievably exciting and complex and gorgeous, and I just love sharing the beauty of it all with my students!" Then at a speed faster than I can write, Cynthia tells me that her philosophy on teaching music is this: "Teaching music is not just about teaching the instrument, but about loving your students and expressing that love through your teaching." Cynthia remarks that in addition to the technical and artistic aspects, teaching music involves teaching many important life skills; like patience, attention to detail, determination, deferring gratification, breaking large projects into small pieces, and learning to laugh at your mistakes. It's vital in music, and in life, to see mistakes as just information. They teach you what to work on; they don't mean that you are a failure. "I believe that it's not just about learning to play the piano well, but about developing a passion for musical knowledge and understanding, and above all else loving every moment of t he experience; that is what makes you a good musician!"
In addition to being an accomplished pianist, Cynthia is also an in-demand composer. She composed her first piece at the age of eight, and is well-known throughout the Bay Area for composing 19th-century inspired dance music for balls. I had the distinct pleasure of hearing a few of her pieces, and as goose bumps cover my arms (something that only happens when I hear amazing music!) I was truly in awe of her talent. Cynthia has graciously extended to me an invitation to attend a ball where her pieces will be showcased in the future. Something tells me that, even with my not-so-graceful dancing skills, it will be a night to remember!
What is your favorite color?
PURPLE!
What is something about you that few people know?
I actually love heavy metal music!
What hobbies do you have outside of music?
Anything and everything that allows me to be creative! I love designing and sewing costumes and ball gowns, choreographing dances, making lace and Chinese knotwork and of course last but certainly not least DANCING! I love dancing! Especially Irish Ceili, English Country, Vintage Ballroom, Lindy-Hop, and Contra Dancing. I also love volunteering at the Dickens Fair where I get to dance with the visitors at Mr. Fezziwig's warehouse. (Spreading the love of dancing!)
Where have you performed?
I used to play dinner music at a hotel while I was in school! I also play at recitals from time to time.
What is your favorite dessert?
I can only choose one?! Well they are just all so yummy! I am quite fond of quality milk chocolate, especially with creamy Hazelnut, and anything sweet with Saffron, Cardamon, Peanut Butter, or Coconut.
So, tell me about the tiaras? Are you a real princess?
I just love wearing them; they make me happy! In fact, I wish more people would wear one! Everyone is a princess or a prince. I just wear my tiara on the outside!