Gillian Chen – Violin and Piano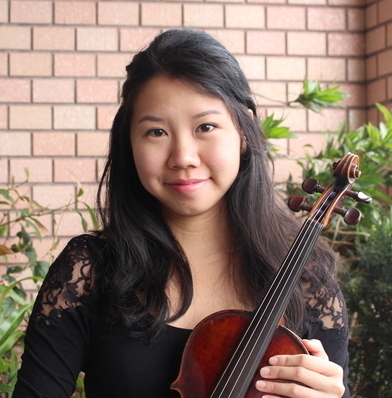 Originally from Singapore, Gillian received her Bachelor of Music and Bachelor of Education in Music Education and Violin from McGill University in Montreal, Canada. From a young age, classical music has been an integral part of her life, studying violin and piano while playing in various orchestras, such as the Singapore National Youth Training Orchestra. At McGill, she studied with Carissa Klopoushak and Andrew Wan, and performed in McGill's early music ensembles and the McGill Symphony Orchestra. Gillian enjoys conducting as well, having conducted for ensembles in the last few years, and had the opportunity to conduct the McGill Wind Symphony for one of their concerts. She also taught general music, band and keyboard classes from Kindergarten – Grade 12, receiving her Quebec teaching license upon graduation. As a teacher, she encourages students to be inquisitive and active learners, while supporting students to do their best through constructive feedback. She loves to work with students of all backgrounds and ages, and is excited to be a part of Starland!
Alive or Dead, What Musician would you do anything to see?
Giuseppe Tartini, who was known for composing the notoriously difficult violin piece, "Devil's Trill Sonata". I'm curious about his composition process, and would love to see him perform it!
Greatest Musical Influence?
My music teachers and professors throughout the years – they've taught me not only the essential fundamentals, but also instilled a lifelong appreciation and exploration of music in me.
Any hidden talents besides music?
I love cooking!
What did you want to be while you were growing up?
Like many others, I wanted to do a multitude of things when growing up…I wanted to be an astronomer, detective, singer, the list goes on.
If you could have any 'Super Power', which one would it be?
Enhanced dexterity and agility: It would be really beneficial as a musician, and on the other hand, I'd be able to do flips and cartwheels!
If you could master any other instrument which would it be?
The drum set, as well as the cello.
Have you had what people would consider your "15 Minutes of Fame", and if so when/what was that?
I can only think of embarrassing/hilarious moments…does that count?
It's your last meal: What would it be?
Hainanese chicken rice.
You are sent to a deserted island, and you only have one album to listen to: Which is it?
The music I listen to varies greatly depending on my mood, but I always seem to gravitate towards early music. Any album by The Unicorn Ensemble (medieval and renaissance performing group) would work.
If you could leave one lesson with your students what would it be?
Love of learning – never assume you've reached the end, there's always more to discover. It's one of life's joys!