Jefferson Bergey- Voice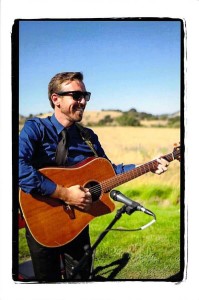 Whether it's Motown-inspired acoustic soul, dirty groove-laden pop, barroom blues, or classic crooning, 
Jefferson
Bergey
's multi-genred, sometimes theatrical style can be described as walking a thin line between sentimental and sleazy. When he isn't on his best behavior as a teacher and performing for all ages, he brings out the worst in the form of adult-driven, irreverent comedy set to acoustic music at variety, music comedy, and stand-up shows all around the Bay Area.
Jefferson
 was trained classically in vocal performance at the University of Iowa, performed in numerous fusion and funk groups, and resided in Chicago for nearly a decade before transplanting to the Bay Area to make music full time in 2011.
Along with occasional episodes of his whimsical web series (
Bergey

 and the Buddha
) he splits his time singing weddings and corporate events (
Lucky Devils Band, Suite Love Express, Ivy Hill Entertainment)
 and as the voice of Gregg Allman in (
Freestone Peaches)
. He's also volunteered and performed at the 
Special Olympics Summer Games
 in Long Beach, The 
John Steinbeck Association
 in Monterey, and has played numerous private acoustic shows at the 
Facebook
 compound in Palo Alto. As a solo act and with various groups he's shared the stage or opened for 
Big Bad Voodoo Daddy,
JJ Grey's Mofro
,
 Bob Schneider,
Ari Hest, New Monsoon, 
and members of 
String Cheese Incident
, amongst other national touring artists. When he isn't performing, he's teaching voice in Oakland, Pacifica, San Francisco, and is thrilled to be joining the faculty at Starland School of Music.
You can find him on facebook, twitter, itunes, bandcamp, and spotify.
www.jeffersonbergey.com
 1. Alive or dead: What musician would you do anything to see perform/meet?
Anything?! Who would I do ANYTHING to see or meet?! Sheesh, that's tough. Well, first of all, I wouldn't kill anybody. That would NOT be cool. I guess if I could be a fly on the wall of Abbey Road studios during the last few years of The Beatles' short existence then that would be more than thrilling. Hearing the music that is, not being a fly. That would probably be rough. But, then again, I've never been a fly, so who am I to say?
 2. Greatest musical influence? I'd say my biggest musical influence came in the form of seeing Starlight Express on Broadway when I was seven years old. It also launched an immediate interest in roller skating that only lasted until I was about twelve, but the interest in music stuck. That translated to playing piano, then trumpet, then guitar, and finally I started singing in my early teens. I've been insufferable ever since.
3. Any hidden talents besides music?
I also write comedy. If any of it was actually funny I would call it a talent. I used to draw stuff but then I just got into the art of drawing attention to myself. Otherwise, I'm really good at being ignored. I'm also quite skilled in answering questionnaires.
4. What did you want to be while you were growing up?
At first I wanted to be a veterinarian. Then I was informed that a veterinarian performs surgery. That dream stopped right there. Then I wanted to be a cartoonist. Then I was informed that would also require performing surgery. I was probably given some misinformation there, but by that point I discovered that I was musical. So I decided to pursue that since I was too tall to be a jockey and too short for any other professional sport. I did love playing baseball but I spent most of my time on the bench memorizing the lyrics to 'Ice Ice Baby' or way out in left field fantasizing that I was a heavy metal singer while praying the ball wouldn't be hit in my direction.
5. If you could have any 'Super Power', which one would it be?
I would be The Metabolizer. Not a glamorous power, but helpful when you enjoy food that has zero nutritional value as much as I do. I wouldn't be fighting crime as much as I would be just eating a lot of cake.
If not, then my other super-hero power would probably have to do with time travel. I've sung some really unfortunate notes that I would love to go back and try to erase. But, would that then erase all of the good notes I've sung since? Hmmm. Weird predicament, huh? I'm sure I'd use that time-traveling power for crime-fighting and all that good stuff that would benefit the human race and the future of our collective society, but also for the lottery numbers.
6. If you could master any other instrument which would it be?
The Chapman stick! Ever seen one of those?! Google it! Holy moly!
7. Have you had what people would consider your "15 Minutes of Fame", and if so when/what was that?
I was on the Denise Richards reality show for a couple of seconds. Remember her? She was married to Charlie Sheen for about 15 minutes. This did not make me famous and it's about fourteen minutes and fifty-five seconds short of the aforementioned 15 minutes, so….no, that hasn't happened…YET!
8. It's your last meal: What would it be? Well, if it's come to that, I want Portillo's from Chicago. Italian Beef, Chili Cheese Dogs, Chocolate Cake. Actually, I'll just have one of each item from the entire menu.  (Don't judge me, you said it's my LAST meal!)
9. You're sent to a deserted island, and you only have one album to listen to: Which is it?
First of all, what did I do to be sentenced to a deserted island?! Was it because of parking tickets? I hope it wasn't because of parking tickets.  Second of all, I would opt out of having one album. Simply because I would learn to hate it or only associate it with being stranded on a deserted island because I didn't pay my stupid parking tickets, allegedly. Third of all, I suppose The Beatles' self-titled album. All four sides. It's still just one album!
10. If you could leave one lesson with your students what would it be?
Singing is breathing pitch. Don't push, don't pull. Pay your parking tickets. Also, wax on. Wax off. Okay, so that's more than one lesson. Sorry, I like to teach!