Leanne Greenberg – Piano and Vocal Instructor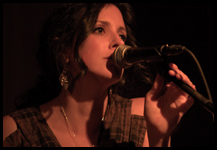 Leanne Kelly Greenberg has been a vocal and piano instructor at Starland Music Center since 2010, and has been teaching piano and voice for over 10 years. Leanne is a patient and friendly instructor, that caters to the student's musical interests, whether they wish to approach music from a classical, jazz, pop, technical, or chordal approach. She is also a member of the American College of Musicians/National Guild of Piano Teachers, for students who wish to challenge themselves with the yearly Guild Auditions.
Ms. Leanne Kelly comes from a musical family: all members of her family play the piano, her parents used to play the accordion, and her brother is a contemporary percussionist in New York. Leanne started her private piano instruction at age 5, studying classical piano until she reached college, when she began playing jazz and rock. She also played tenor saxophone throughout middle and high school, performing in the marching and jazz bands as well as in the orchestra pit for musicals. Leanne earned her Bachelors degree in Music with an emphasis in Vocal Jazz from the prestigious University of Southern California's Thornton School of Music. She double majored, also earning a Bachelors degree in Psychology, and is currently in graduate school at the Saint Mary's College of California, where she is working on a Masters degree in Counseling.
When she is not teaching or in class, Leanne is the lead vocalist, keyboardist, and songwriter for local band, New Spell. New Spell is a melodic indie electro-rock band, which just self-released their debut album. You can find their music at http://newspellmusic.com She also has a solo project: http://soundcloud.com/leanne-kelly.

Alive or Dead, What Musician would you do anything to see perform/meet?
I've seen them already, but I'd like to meet Radiohead (most specifically Thom Yorke).
Greatest Musical Influence?
Radiohead, Tori Amos, Bjork, The Beatles, John Coltrane, Chopin
Any hidden talents besides music?
Cooking. And eating.
What did you want to be while you were growing up?
I wanted to be a doctor, a veterinarian, a dental hygienist, a mommy, or a truck driver. Then around age 15 when I started listening to Tori Amos, I decided I wanted to be a songwriter.
If you could have any 'Super Power', which one would it be?
To fly! Or to time travel.
If you could master any other instrument which would it be?
The guitar.
Have you had what people would consider your "15 Minutes of Fame", and if so when/what was that?
Still waiting for that one…
It's your last meal: What would it be?
A very large and juicy steak. With potatoes. And some kind of delicious vegetables. And maybe some mac n cheese.
You're sent to a deserted island, and you only have one album to listen to: Which is it?
At the moment, I'm really into "WhoKill" by Tune-Yards, so if I was stuck on an island right now that's what I would listen to. Plus I imagine I'd be really sad and lonely on this deserted island, and the album is pretty upbeat and happy.
If you could leave one lesson with your students what would it be?
Believe in yourself.
Starland School of Music – SF Bay Area's #1 Choice For Music Lessons Since 1979 – Serving Alameda, Oakland, San Leandro, Hayward, Piedmont, Pinole, Richmond, Berkeley, Union City, Albany, Newark, Fremont, and the greater Bay Area.