Mario Godoy- Saxophone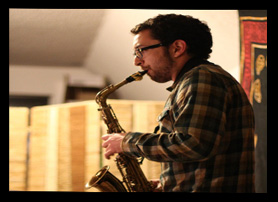 Mario Godoy is a saxophonist and composer based in the San Francisco Bay Area.
As a saxophonist, he has performed professionally across the gamut of musical genres having performed with the Redlands Symphony Orchestra on multiple occasions, multiple chamber groups, jazz big bands, jazz combos, and rock bands. He currently plays regularly with experimental indie rock group, Makeunder.
As a composer, he has written pieces for solo instruments, numerous chamber groups, wind ensemble, works for instruments with electronics, fixed media electronic music, as well as music for video games and media. Groups he has worked with include Friction Quartet, Mobius Trio, The Living Earth Show, the International Low Brass Trio and the Del Sol String Quartet among many others. In 2015, Mario was awarded a grant from the San Francisco Friends of Chamber Music to compose a new work for the Einsteinium Saxophone Quartet to be premiered in 2016 at the Center for New Music.Mario has been teaching saxophone professionally since 2006. In addition to his private studio, he has worked closely with middle and high school band directors, running intensive saxophone clinics to help prep and perfect material for field shows, concerts, and recitals. Some of Mario's students have gone on to perform in Honor Bands at the state and national levels. Others have gone on to study music at the collegiate level. He is currently the music instructor at Maybeck High School in Berkeley.
He holds a Master of Music degree in composition from the San Francisco Conservatory of Music where he studied under David Garner. He also holds a Bachelor of Music Degree in Saxophone Performance from the University of Redlands where he studied saxophone with Dr. Eddie Smith and composition with Dr. Anthony Suter.
1.Alive or dead: What musician would you do anything to see perform/meet?
I would have loved to have seen Michael Brecker perform. The people I know who have been to his shows say that he was the most amazing, breathtaking saxophonist they'd ever seen.
2. Greatest musical influence?
My greatest musical influence stems from the incredible variety of music that I grew up listening to. My parents had very diverse musical tastes so I listened to a lot of Classic Rock, Jazz, Blues, Salsa, Mariachi music, Country, Pop, and classical music. All of these styles have molded my musical mind into something that I consider unique.
3. Any hidden talents besides music?
I'm a big trivia nerd. My brain is full of practically useless information, but it comes in handy while watching Jeopardy. I also have the ability to recall commercials and jingles from the 90's verbatim.
4. What did you want to be while you were growing up?
For the longest time I wanted to be a film maker. My friends and I would spend hours making stop motion films with our camcorder. I felt that this could be my ticket to fame.
5. If you could have any 'Super Power', which one would it be?
There are so many to choose from, but if I had to choose I think I would like to freeze time.
6. If you could master any other instrument which would it be?
I've always loved the guitar. I can play it a little, but I've always wanted to learn to play like BB King.
7. Have you had what people would consider your "15 Minutes of Fame", and if so when/what was that?
I don't think it's come around quite yet. My band is starting to take off, so hopefully it is in my near future.
8. It's your last meal: What would it be?
I was tempted to say something fancy like steak or lobster but really, I would probably just want some spaghetti.
9. You're sent to a deserted island, and you only have one album to listen to: Which is it?
Miles Davis- Kind of Blue
10. If you could leave one lesson with your students what would it be?
Always play with confidence. If you're going to make a mistake do it with gusto!