Sean Williams – Guitar Instructor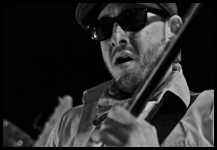 Sean Williams began playing guitar at the age of 12 after finding a guitar tucked away in his parents garage. He immediately became intent on becoming a "rock star." During high school Sean played guitar in rock bands, and the Jazz Band in school. Following high school Sean moved to Boston to attend the Berklee College of Music where he studied jazz performance and composition. After a brief stint in Seattle where he received his A.A in music, he returned to his home state of California to pursue a career in the music industry. Since returning to the Bay Area, Sean has established himself as top call musician for club dates, corporate gigs, weddings, musical theater and recording sessions for various projects. Sean is a current member of the San Jose based Latin group Tortilla Soup, original rock band Pockit (along with our Drum Instructor Thomas Perry), as well as working throughout the Bay with various jazz creations under his own name.
Teaching has always played a large part in Sean's musical life. Sean has been teaching guitar full-time for 8 years, working with students of all ages. His focus is on making guitar lessons fun, as well as covering all areas necessary to develop into a well-rounded and creative musician. Sean Williams is comfortable teaching pop, rock, folk, jazz, classical, blues, songwriting, theory, reading and ear training on either acoustic or electric guitar. Sean strives to incorporate all these components into his lessons so that each student has a firm understanding of basic musical concepts as well as a wealth of ideas on how to make playing music a fun and fulfilling creative endeavor.
Alive or Dead, What Musician would you do anything to see perform/meet?
I would love to kick it with Nels Cline.
Greatest Musical Influence?
Jimi Hendrix
Any hidden talents besides music?
Sports, baseball specifically.
What did you want to be while you were growing up?
Wanted to be a pro baseball player.
If you could have any 'Superpower', which one would it be?
Invincibility.
If you could master any other instrument which would it be?
Piano.
Have you had what people would consider your "15 Minutes of Fame", and if so when/what was that?
Not Yet!
It's your last meal: What would it be?
Slab of bacon.
You're sent to a deserted island, and you only have one album to listen to: Which is it?
Miles Davis – Kind of Blue
If you could leave one lesson with your students what would it be?
If you're going to try something; give it your all.