Thomas Perry – Drums and Bass Instructor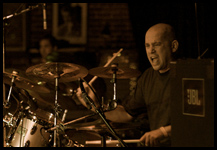 Thomas grew up with his family in the small town of Madera, California. "I didn't come from a musical family, my first real exposure to music was a radio" Thomas reflects. However, When Thomas was in the 4th grade, he developed a crush on a girl who played drums in the school band. So, in an effort to impress her, Thomas joined the school band as a drummer! Unfortunately, the drums did not turn out to be her instrument and she quit the band a short time after Thomas joined. By that time however, Thomas had already discovered his first love and he was hooked… on music! "My first drum set was the worst drum set ever! I had to keep it together with duct tape!" Thomas eventually made the decision to sell his souped up race truck to purchase his first professional drum set.
Thomas played in the school band and drumcorps all through high school and college. Right after high school, Thomas got offered his first teaching position as the percussion instructor for his high school's band. "It was a huge learning experience to be writing and teaching drum-lines for orchestra pieces" Thomas reflects. Thomas also learned a very valuable teaching lesson. "It was strange to be teaching the buddies I had been hanging out with at school only a few months before that. It taught me a lot about respect, both commanding it and earning it." While Thomas was teaching, he attended Fresno City College specifically to study under the direction of Mike Dana, a well known music arranger.
After teaching for three years, Thomas decided to try his hand at something else and got a job managing a paint store. But, it wasn't long before Thomas missed being surrounded by music. So, he quit his job, packed his belongings and moved in with an old band mate who lived in the San Francisco bay area; with no plans in mind other than the pursuit of his love for music. Just one month after moving to the bay area, Thomas started working at Starland.
Being a part of Starland has brought about many opportunities for Thomas. For example; within six months of Thomas starting at Starland, the Starland Music Center percussion program was born. "I didn't really fall in love with teaching until I began working at Starland, and now I can't imagine a time when I would ever stop teaching. Teaching music is a huge part of being a musician for me. It keeps me humble and young at heart! Also, over the years Thomas has played with many musicians that he met through Starland. Then of course there is the most important example of all; Thomas met his lovely wife, Deborah, at Starland.
Thomas has been in a variety of bands over the years, starting with a blues band when he was in Jr. high school that went by the name Tight Rope. "We used to play gigs at a place called The Flamingo when we were in high school. It was a great experience!" Then, after moving to the bay area, Thomas started jamming every Thursday night on KBLR; a pirated Berkeley radio station. Those jam sessions eventually led to one of the bands he is still a part of today, Pockit! Since then Thomas has played in over 20 bands, some good, some bad, and some down right awesome! "I just wanted to be surrounded by music, so I took every gig I could find! The money wasn't great, but the experience taught me to be a better musician and that is worth way more to me than money. Plus, it was inspiring to be involved with so many great musicians."
If you had not pursued music, what profession would you have pursued instead?
I would have joined the Navy as a pilot. I even went to boot camp for two summers as a teenager on Treasure Island as a part of the Sea Cadet program.
Do you play any instruments besides percussion?
Yes, I play the bass, guitar and even a little piano. Dennis Cole was my first bass teacher, and I started playing guitar mostly because Wayne Anderson told me I couldn't!
What is your favorite beverage?
Iced tea.
Do you have any hobbies outside of music?
I love to build models like cars, planes and ships.
Who has been the most inspiring drummer in your life?
Nate Grisby (The percussion instructor Thomas ultimately replaced at his high school).
Alive or Dead, What Musician would you do anything to see perform/meet?
Jimi Hendrix.
Any hidden talents besides music?
I am a great chef and love gardening!
What did you want to be while you were growing up?
Fighter Pilot.
If you could have any 'Super Power', which one would it be?
The ability to freeze time.
If you could master any other instrument which would it be?
The piano.
Have you had what people would consider your "15 Minutes of Fame", and if so when/what was that?
My band Flametal sold over 50,000 C.D's overseas in Japan.
It's your last meal: What would it be?
My mom's corned beef!
You're sent to a deserted island, and you only have one album to listen to: Which is it?
Ren and Stimpy: You Eediot
If you could leave one lesson with your students what would it be?
Just go for it, and give it your all.