Wayne Anderson – Guitar Instructor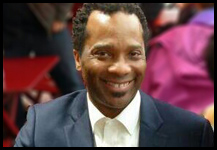 Wayne Anderson grew up, the youngest child in a family of musicians and theater performers, in a small town in Connecticut. His father, Clarence Anderson Jr., was a music teacher/trumpet player and he encouraged Wayne to pursue his love of music at an early age. As a result Wayne played several instruments, including the drums and the sax, before finding his niche with the guitar at the age of nine.
With family jam sessions being a regular occurrence in Wayne's home growing up, it was natural for Wayne to seek out others with musical talent to jam with in his teenage years. "High school was when I really started thinking about music as a profession." Wayne reflects. The band he was in while in high school, played their very first paying gig for a graduation party. "It was very cool" says Wayne.
After high school, Wayne was itching to see the world and dreaded the thought of going to college so soon after graduating. So, Wayne enlisted in the Navy instead. "It was great" says Wayne, "I got to see a lot of cool places and experienced life beyond the small country town I grew up in." After four years in the Navy, Wayne settled down in the town he was last stationed in. The Bay Area's very own, San Francisco.
After his time in the Navy Wayne, who never ceased in pursuing his love of music, began taking every jazz, blues, classical, Brazilian, composition and theory guitar class he could find. As a result, Wayne has had the privilege of studying under great musicians such as Warren Nunes (Author of The Jazz Guitar Chord Bible), Adam Levy (Norah Jones guitarist), David Hartman, Bob Bozina and Steve Erquiaga. Wayne also attended the Blue Bear School of Music in San Francisco for many years.
Wayne has a list of past performances as long as your arm! The highlights on that list include performing at the San Francisco Filmore Jazz Festival and the North Beach Jazz Festival; as well as performing along side artists such as Herbie Lewis, Donald "Duck" Bailey, Pete Yellin, Sonny Simmons, Ed Kelly, Andy Narell, Vince Lateano. Wayne's current projects include working with jazz vocalist Lily Layton, Doug Ellington (grandson of the great Duke Ellington); and is a member of both the Dwayne Oakley Jazz and Blues Ensemble and the Jim Grantham Quartet. Wayne is also working on his own solo CD of completely original music as well as his own guitar method.
Along with a history overflowing with musical experiences and influences, Wayne absolutely loves passing on his knowledge and passion for music to his students. Wayne has been teaching guitar at Starland Music for ten years, and has taught for fifteen years all together. When I asked Wayne what his favorite part about teaching was he had this to say "Teaching music is really rewarding! When everything clicks with my student for the first time and I see that love and passion for music begin to grow in them, it's amazing! When I see in them the desire to perform, compose or even teach music themselves, it makes me so proud to be a music teacher."
Which concert is your favorite of all that you have attended?
Hands down, Pat Martino Live at Yoshi's. It was so good they made it into a CD!
What hobbies do you enjoy outside of music?
I love to draw, play soccer and read.
Which album is in your music player right now?
Kurt Rosenwinkle, Live at the Village Vanguard.
Who are your musical influences?
There are so many! Jimi Hendrix, Jeff Beck, BB King, Wes Montgomery, Joe Pass, Lee Morgan and Charlie Parker just to name a few.
What did you want to be while you were growing up?
Rock Star
If you could have any 'Super Power', which one would it be?
To achieve world peace with sound.
If you could master any other instrument which would it be?
Upright Bass.
It's your last meal: What would it be?
Extra large -PIZZA!
You're sent to a deserted island, and you only have one album to listen to: Which is it?
"Songs in the Key of Life" -Stevie Wonder
If you could leave one lesson with your students what would it be?
Listen.