William Hughes Biography – Guitar Instructor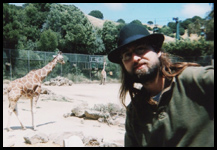 William Hughes has been teaching people of all ages the acoustic and electric guitars for fifteen years. He combines his years of experience as a student, teacher, and performer with the Starland guitar system to provide a step-by-step, patient, and enjoyable approach to learning the guitar, as well as basic vocal training. William began playing the guitar at the age of 16 when he saw how much fun his friends were having jamming together. From the moment he got a guitar he was hooked. Learning the guitar combined creativity, physical technicality, and mental focus, not to mention being a great deal of fun. His first influences were the alternative rock bands of the nineties like Nirvana and Green Day.
As William progressed on the guitar he became fascinated with the sounds of classic rock and began learning the stylings of Led Zeppelin, Jimi Hendrix, etc. Listening to Led Zeppelin also cultivated a love for acoustic guitar music and soon after high school William began studying the classical guitar at the County College of Morris in Morristown, NJ. While at CCM he also joined the jazz band where he began to appreciate the sounds of everyone from Louis Armstrong to John Coltrane. The other great thing about the guitar was that any and all styles of music could be played on it making it and endless source of musical inspiration.
Attending shows in New Jersey and New York City introduced William to his first band mates as he began playing gigs in small clubs and coffee houses around the area. Being in such a musical mecca also allowed William to see the great guitarists of rock, jazz, blues, and classical. He was lucky enough to be chosen for a master class with Christopher Parkening at CCM. William graduated CCM with high honors and then decided to finish his Bachelor's degree at Rowan University in Glassboro, NJ. It was here that the classical guitar consumed him. It was a steady diet of Bach, Segovia, and six-hour practice sessions.
While at Rowan University William was selected two years in a row to participate in master classes held by guitarists who had won the GSP (guitar solos publications) classical guitar competition, the most coveted award in the world of classical guitar. It was also at Rowan that William discovered another passion through music, teaching. He was hired at a music school where he began to develop his teaching style, which became a balance of fun and discipline – learning the pop riffs we all know and love with a great emphasis on the fundamentals of rhythm, technique, and music theory. Above all else, he wants students to enjoy the experience of learning which is the essential element in progress.
William graduated Rowan University Magna Cum Laude and moved back up to northern NJ where he began teaching full-time. Before long, and influenced by a new love for the Beatles, William began singing. He had first begun singing in the choir at CCM a few years prior but had never spent much time developing his voice until now. Learning songs to both sing and play opened up a whole other dimension in musical expression. In the Spring of 2001 William moved to West Palm Beach, Florida, where he continued to teach guitar full-time and perform.
In early 2005, William migrated to the Bay Area to continue his career in musical education and performance. Since then, he has played in numerous bluegrass, rock, and jam-influenced bands. He began teaching at Starland in the Fall of 2005, where he fused his teaching style with the Starland Guitar System, creating a graded method useful for students of all ages. William continues to be inspired by his students, not only as a teacher but as a student himself.
Alive or Dead, What Musician would you do anything to see perform/meet?
Jimi Hendrix
Greatest Musical Influence?
Jerry Garcia
Any hidden talents besides music?
Sports.
What did you want to be while you were growing up?
Pro hockey player.
If you could have any 'Super Power', which one would it be?
To fly.
If you could master any other instrument which would it be?
Fiddle.
Have you had what people would consider your "15 Minutes of Fame", and if so when/what was that?
Playing at the Earthday Festival in Topenga Canyon, Ca
It's your last meal: What would it be?
Gourmet cheeseburger
You're sent to a deserted island, and you only have one album to listen to: Which is it?
Help
If you could leave one lesson with your students what would it be?
Find something you enjoy and pursue it.