Piano Lessons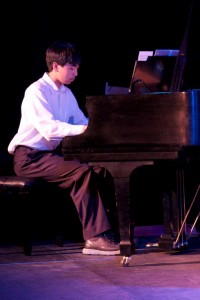 Starland School of Music has been teaching students of all ages and skill level piano lessons and keyboard lessons for over 30 years in Alameda and the SF Bay Area.
Through a rigorous hiring process consisting of extensive interviews, testing and reference checks we have acquired skilled and knowledgeable piano instructors who have a passion for music and teaching alike.
We teach all styles of piano lessons and keyboard lessons. Whether you are preparing an audition for the Piano Teachers Guild or wanting to play pop and jazz tunes, Starland has the right instructor and piano lessons for you!
Every piano student will become well-versed in note-reading, ear training, timing, composition and overall theory which all comes together while playing musical pieces.
Our instructors prepare our students to perform in an optional low-pressure yearly recital which provides a great opportunity to create and achieve goals while gaining confidence in performing. During our recitals and events Starland encourages and facilitates students joining together and creating music.
Starland School of music provides the optimum school setting for piano lessons with special teaching studios specifically designed to enhance the music learning process during in Alameda.
Call us for a free consultation for Piano Lessons at 510-523-4797
Available Piano & Keyboard Teachers