Starland Behind the Scenes – Alameda Mayor's Fourth of July Parade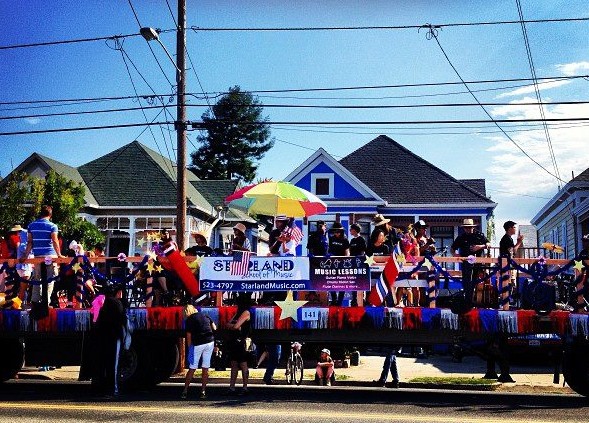 Summertime
Typically summertime is what we call our "slow season" for music lessons here at Starland School of Music due to students and families going on vacation. However, this year has been a little bit different because we were just as busy planning and preparing our float for this year's Alameda Mayor's Fourth of July Parade.
I think it is fair to say that most would underestimate how much work it takes to put a float into the parade, especially when it is only the second time.
Now that the hectic whirlwind filled with metallic fringe, glitter, and garland has calmed, and we proudly look upon our unexpected red, white, and blue trophy for Third Place Float, I can look back and reflect, and get ready for the possible future years.
Our First Year in the Parade – The "Guinea Pig" Float
Well let me start by saying that we did not win anything in 2012 for our parade experiment float, but I personally am just as proud of it as I am of this year's float.
It all started in one of our regular all staff morning meetings that Tomas (Starland Founder and Music Director) dropped the bomb on me:
"I signed us up for the parade, and you have a few weeks to get it together."
Let the scramble of "get it done" begin!
Find a trailer. Find a truck. Find a driver. Find power for trailer. Find participants. Plan. Organize. Contact. Get Decorations. Wake up. Hit Snooze. Wake up again. Decorate. Walk and Wave in the blazing Sun for 3.3 miles. Have Fun. Un-decorate.
It was a success!
It was nothing pretty, a u-haul trailer attached to my brother's Chevy truck with Tomas playing guitar, practically surfing on the swaying wobbly trailer, with sparkling gold decorations haphazardly tossed onto the trailer at 7:00am (a time musicians are definitely NOT used to).
I was exhausted by the end..but also beaming.
Immersing myself into such a large community event, and representing not only Starland, but also representing what I believe to be the most important and powerful thing in the world, MUSIC and music lessons, was rewarding and fulfilling. Seeing our student's brighten up and call out to us along the way shouting "Hey! I go there!"  is a great reminder of  how important these music lessons and how to learn to play an instrument are to the people in Alameda.
2013 Parade – Go Big or Go Home
For our first year in the parade our Manager and Drum Instructor Thomas Perry was visiting family out of state, which is where he usually is during the big summer holiday. After his return home he saw pictures of our sad little float, but also heard our stories of exhilaration, and he felt inspired.
"If we do this next year we are doing it big, and doing it right."
I now know that he meant what he said.
Instead of three weeks of planning, I now had 11 months.
The U-Haul trailer was replaced with a 45 ft Flatbed. The Chevy truck was now a Semi-Truck with a driver named Jim. Instead of buying decorations we had a local artist Shelly Patterson volunteer to design, shop, and build the decorations. Instead of a small handful of friends, students and parents joining us, we had a small Starland Army equipped with kazoos for the crowd. Although nothing can replace Tomas' rocking guitar skills, this year we had two Honda generators powering a full stage with amps. guitars, bass, drums and a keyboard with our very own Starland students rocking out for the world to see!
The parade was still long, and it was still hot, but we rocked and we rolled for 3.3 miles with an impressive and gigantic float with some extremely talented students playing the whole way , and just as our energy was dying down we were handed a trophy for Third Place Float on Webster Street! What a surprise! What a difference from the year before!
It was successful once again! 
Now that it's done I can finally breathe, but only for a moment because it is time to get started on our largest production of the year, Starland School of Music's All School Recital to be held in November at Rythmix Cultural Works Center in Alameda, California.
Hopefully the people who saw our dazzling float heard our message loud and clear that we have guitar lessons, piano lessons, violin lessons, clarinet lessons, saxophone lessons, drum lessons, voice lessons, and so much more so they can start lessons in time to join us for the recital in November!
Now all I know for sure is that if we attempt to pull this off again we will need as many volunteers as we can get…and this time get First Place.