Aimee Needs Your Help!
Hello Starlandians!
I have a favor to ask you.
As you may or may not know, Starland currently has over 600 students (And 27 teachers!). Our big goal over this next year is to reach the BIG 700. We love music so much, we just can't help but share it! This is why I encourage all of you to tell your friends about how much you love Starland! To help get you started, I'm excited to introduce our newest awesome promotion.
Between now and November 1st, if you refer a friend to Starland and they sign up for lessons, you will both receive $50 applicable to lessons! Stop by as soon as possible to pick up a few referral cards before they're gone. Fill out your card and have your friend bring it to their free consultation so you both get your Thank You gift! If you have any questions about how this works, please feel free to email me at aimee.starland@gmail.com
What's the consultation for?
We take the time to make sure you are getting what you really need to fully experience the joy of learning and creating music.You'll come in for a FREE consultation appointment where we will take the time to go through a special process we've developed called the Music Learning Needs Analysis.
From the info I collect I can recommend a program, instructor, give you a cost for what we come up with and answer more questions you may have about lessons.
Don't Forget! This deal is ONLY valid until November 1st and consultation times are limited! Encourage your friends to come in now before all of our spots are gone.
TIME LEFT
[countdown_timer style="3″ end_date="2016/11/1 19:00:00 GMT -7″ redirect_url="" years_text="Years" years_text_singular="Year" months_text="Months" months_text_singular="Month" days_text="Days" days_text_singular="Day" hours_text="Hours" hours_text_singular="Hour" minutes_text="Minutes" minutes_text_singular="Minute" seconds_text="Seconds" seconds_text_singular="Second"][/countdown_timer]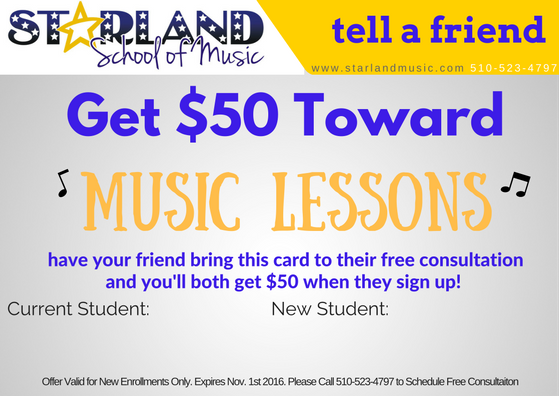 Thank You!
Aimee Fields
Asst. School Director