Judy Cruces – Violin, Piano and Voice Instructor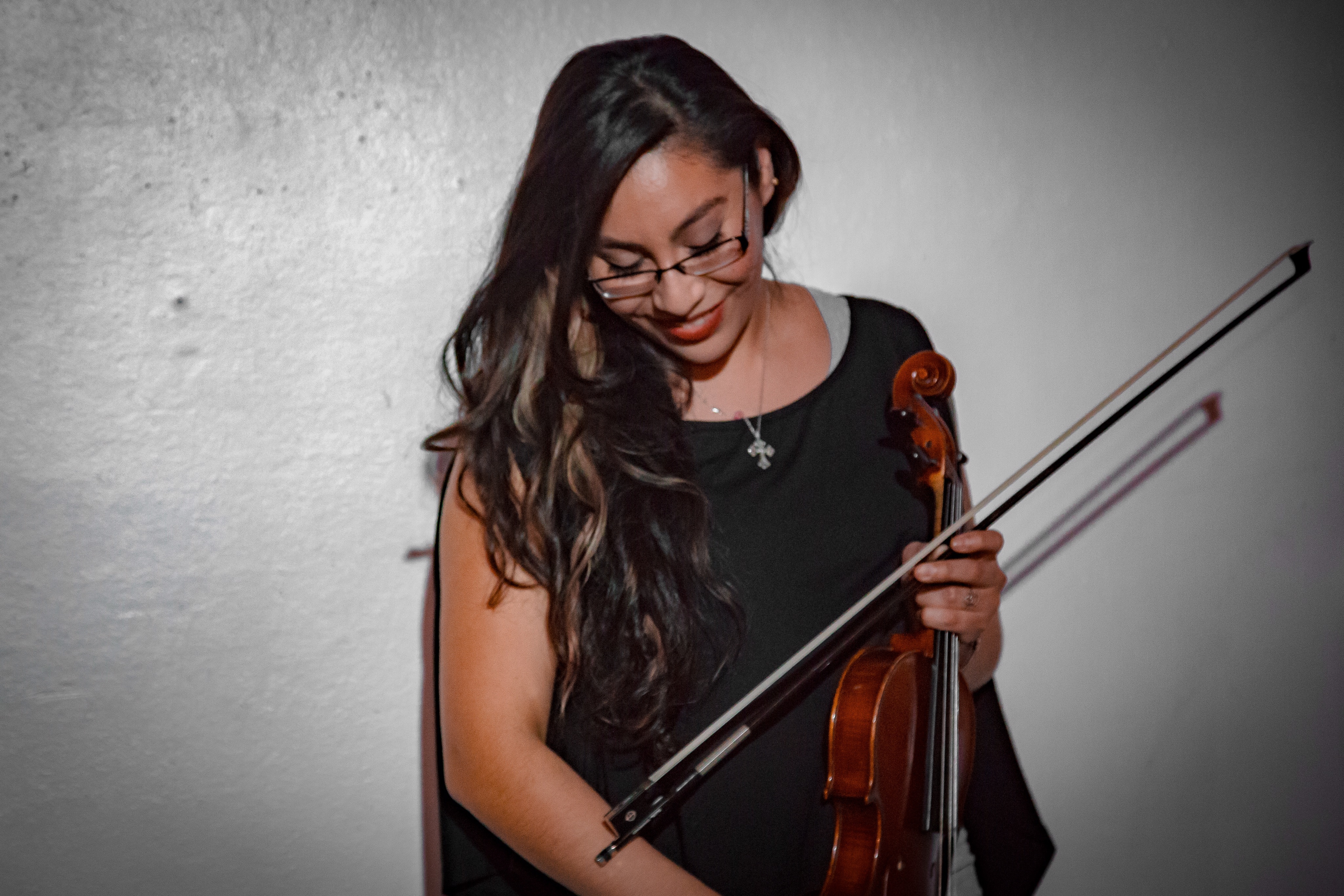 Judy Cruces has been teaching music throughout the Bay Area since 2011 to students of all ages. Her passion for music started at a young age. She's loved singing for as longs as she can remember. At 5 years old she was introduced to classical music from a CD her father bought her, and she loved it.
Once in 4th grade Judy had the opportunity to audition for (and get into) an honors choir through her school. Soon after, she saw a live orchestral performance for the first time in her life. She decided soon after to start playing violin, and hasn't stopped since!
Through the rest of her schooling, Judy continued to study both voice through various choirs, and violin through self-teaching and eventually private lessons.
By the time Judy was a freshman in high school at Alameda High, she'd decided that she would get her degree in music. A few years later she earned her BA in Music with a violin performance concentration from CSU East Bay.
While working on her degree Judy continued singing in choirs, and even competed! It was during this time that she also developed her passion for composing music, which she'd originally started doing back in high school.
While at CSUEB she met another local musician, Ken Medlen, and they began their duo, LunaSol. They currently enjoy creating and performing some of their original songs, and have even recorded a few. They also perform locally and love sharing their music with others. She love to play many genres of music and as a result finds herself playing in multiple bands a projects throughout the Bay.
Judy is currently studying the Kodaly Method at Holy Names University in Oakland. She's expecting to earn her MM in Music Education- Kodaly. The Kodaly method is a holistic way of teaching music that involves all of your senses and aims to grow students musicianship to become well rounded musicians.
Alive or Dead, What Musician would you do anything to see?
There are so many but I would have loved to see Bach, Beethoven, Chopin, Lady Gaga, Lindsey Sterling, Ella Fitzgerald.
Greatest Musical Influence?
My violin teacher, Josh Cohen, and my choir conductor, Dr. Buddy James!
Any hidden talents besides music?
Organize and rearranging spaces! I think I was a interior designer in a past life.
What did you want to be while you were growing up?
A Veterinarian, then later a Music teacher
If you could have any 'Super Power', which one would it be?
Definitely teleportation
If you could master any other instrument which would it be?
I would love to learn cello and steel drum proficiently!
Have you had what people would consider your "15 Minutes of Fame", and if so when/what was that?
That one time I was able to performing at Yoshi's in Jack London with a my band at the time.
It's your last meal: What would it be?
All the lengua tacos with extra green sauce and limes!
You are sent to a deserted island, and you only have one album to listen to: Which is it?
This is such a hard question! I love all music and listen to a group/artist depending on my mood…but I would have to say any Ella Fitzgerald album.
If you could leave one lesson with your students what would it be?
Play with not hesitation! The best thing about music is that even when we think it's a mistake, it's an opportunity to create something beautiful or new.