10 Tips To Get The Most From Your Violin Lessons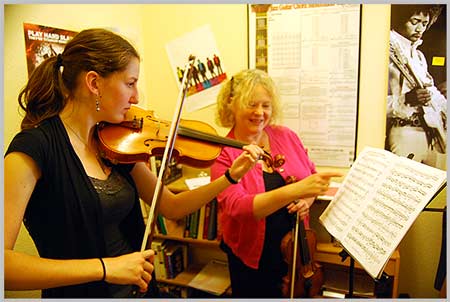 We here at Starland School of Music understand that when you start violin lessons to learn how to play violin that it's an investment you are making to enrich your life with music.
We also want to help you get the most from your violin lessons, and give you some guidance for the most effective way to learn violin.
So, through interviews with our highly trained and experienced instructors and further research we have comprised for you 10 Tips To Get The Most From Your Violin Lessons to help you on your musical journey!
1. Learn How to Take Proper Care of the Instrument
Keep your violin in it's case, and close case when you are not playing the violin. Remember to loosen the bow before you put it away, and wipe the instrument with a soft cloth after playing to remove extra rosin and dust. Don't leave the instrument in direct sunlight or extreme temperatures.
2. Be Punctual and Consistent for Your Violin Lesson
When learning how to play the violin it is in your best interest to be punctual and consistent in attendance of lessons. By attending all of your scheduled violin lessons you will make steady progress.
3. Practice!
This doesn't just mean spending time playing your instrument, but taking advantage of thoughtful practicing by becoming familiar and physically comfortable with the instrument, and watching and listening to different players. During this practice it is also important is listen to yourself, not just hear, but really listen.
Some Questions to Ask Yourself Are: Does that sound like I intended? If not, what's wrong? Could be a note that's out of tune?  
4. Practice a Little Everyday
A good guideline for a beginning violinist is to practice a little bit each day for at least 30 minutes at a time. Of course any practice is better than none, so pick up the fiddle and play when you can!
5. Create a Practice Space and Time for Yourself or the Student
Make sure that it is a place and time where you can really focus and have an uninterrupted 30 minutes of thoughtful violin practice. You can leave music on the stand to make things easier and readily available. If you are worried about the sound affecting others you could purchase a rubber practice mute.
6. Use A Metronome
When playing scales and etudes, practice with a metronome, slowly! You will only play violin accurately and in time fast, if you can play accurately and in time slowly.
7. Take Breaks During Practice
Take breaks when necessary. It's important to give yourself time to process the work you do, and to make it seem less like a chore.
8. Listen Carefully and Ask Questions in Your Violin Lesson
When in your violin lesson, listen carefully to instruction, but also think of questions to ask that may aid you in practice. If questions come up during your practice at home go ahead and write them down, then bring them to your violin teacher during your next lesson.
9. Listen to Violin Music
Listening to music is a good way to develop your ear. Listen to recordings of the piece you're working on and that could lead you to be inspired to listen to other pieces by the same composer. Take this as a chance to read up on the history of violin and various musical styles and eras to become more familiar. Inspiration will be sure to follow.
10. Have Fun!
Learning how to play the violin should be fun! If you find things become too difficult, slow down and find a way to make things work, then you can build from there.